---
Saturday 14th May
10am-3pm

It's difficult to believe but it is our 9th anniversary this week. Our first market was the 11th of May 2013 and this is a picture taken just before of me, Karen (R), Laura (L) and Rachel de Thample (centre), who was involved in its creation. We were so nervous and very excited, except for Rory, it seems. Rory's now a fully fledged teenager and we're a fully fledged market, and have even picked up some awards along the way, including being listed as one the top three best markets in 2015 in the BBC Food and Farming awards. Rachel has gone on to become the fermentation queen at River Cottage, amongst many other achievements, and Laura and I are still managing and running the market on a weekly basis alongside other jobs.
We are so proud of all our stallholders and all the hard work they put in to bring us the best produce and artisan food week after week. And we're so grateful to all our lovely customers, many who have been with us since that first week! Thank you all. And a big shout out to our army of teenage volunteers, who help us get the market up and down each week, and Antenna cafe who supply us with the land, the electricity and the all important coffee. And of course a thank you to all those who've helped us along the way, including Joe Duggan, shown here dressed as a carrot promoting us at the top of the hill. Long live the market.
In other news this week, there's a return of the Mellow Art Fair at Free the Gallery. And we've in for a treat with music from The Rookery Ensemble (see below).
---
LUNCHES
Gustosissima Italian ready meals and lunches. This week Paola will be making a new dish – freshly made aubergine and tomatoes sauce with gluten free tagliatelle (pictured). Come early to avoid disappointment.
Grow – Plant Based Kitchen Vegan pies to take home as well as vegan lunch menu from local Eimear Teague. Choose from lasagna, 'chicken' supreme pie, mushroom and Guinness pie, Mac and cheese and seaside pie for taking home. And the lunch offering is the bean chilli with corn bread – but you'll have to be quick as it sells out early. Find her in the courtyard.
Comfort & Joy Deli stall with pies, scotch eggs, sausage rolls, hot wraps and a varied selection of interesting salads. Also find a range of meals to heat at home.
Simply Tay AWAY THIS WEEK Made by Sarwat. This week – Samosas, Pakoras, Lahori Chicken, Paneer, Alu Palak, Alu Bengan, Masala Fish. Naan, Mango Lassi, Masala Chai & Spices.
---
VISITORS & MUSIC
MUSIC Rookery Ensemble A collective of musicians, artists and people of words with a focus on experimental sounds alongside spoken word and song. The Ensemble was founded by George E Harris and Alison O'Melia in 2011 when they were running a market stall on Haynes Lane. Alison sadly passed away in 2020, but after a period of mourning George decided to continue the project alongside Erik Moore, Mark Hill and new member, Karlis Andzs, who will all be playing at the market this Saturday. More info here including upcoming performances. From 10.30/11am.
I have a Plant Beautiful house plants in ecological coir pots from Rania.
Palace Forge Ironmongery from our very own blacksmith, Marco
Crystal Moon Crystals and more from Rose
Oh my Choc Vegan chocolate bites. Come and try the new flavour – Cookies & Cream Choc Fridge Cake Bars plus 2 types of vegan cookie, cookie dough, dark and white chocolate and a sea salt sprinkle.
Host Family recruitment stall EF Education is recruiting for Host Families for foreign language students.
---
WINE
The Wine Scout Naturally produced wines from around the world, sourced by Pedro, who says, "Hello! This Saturday we will taste two beautiful wines. The white Sauvignon Bocois Ronco delle Betulle from Friuli in Northern Italy is not your typical green-grassy Sauvignon. This skin-contact Sauvignon offers honeycomb and gentle floral notes on the nose, with great texture on the palate, persistence, and superb drinkability. The red Miras Trousseau Joven, from Patagonia in Southern Argentina, has a beautifully complex fruity aroma in which currant, blueberry, strawberry, guava and cherry can be detected, along with earthy, minty, and herbal notes. On the palate, for a wine of such delicate colour, it has a tannic structure, with balanced fruit-forwardness and freshness."
---
CAKES, PASTRIES, BREAD
Brett & Bailey Joe says "Come and join us for our last visit to the market before we take a well-deserved weekend off.
Expect our first Black Forest gateau (needless to say with lashings of cherry brandy) in ages, plus strawberry milkshake cake, blueberry streusel, orange and fennel drizzle, a brand new matcha lemon cake with raspberries and lychee curd, passionfruit and white chocolate cheesecake, luscious lemon tart, a choice of pistachio cream and raspberry ripple boms, plus all our usuals. See the full menu here.
Need a whole cake next weekend? We won't be at the market but if you
order online by Monday night
we can have it freshly-baked and delivered to your door on Friday morning. We also now sell
gift cards
redeemable both online and at the stall. See you soon!
Bread Bread Sourdough, rye, foccacia, olive sticks, croissants & other pastries, cinnamon buns, cake and more.
---
PRODUCE
Hook and Son Raw or pasteurised dairy; milk, plus butter, cream, ghee, yoghurt, eggs and beef. All organic and pasture fed. Almost all from their own farm.
Holly Farm butcher From farmer butcher Andy.
Veaseys fishmonger See Nick & his daugher Jemima on the stall. That's Nick on the Veaseys boat, Le Belhara, that operates out of Eastbourne daily.
---
FRUIT & VEG
Brambletye fruit, veg & eggs Biodynamic veg, mushrooms, apples, the best apple juice, ferments, eggs, and more. All grown themselves on their farm in Forest Row.
Peterson's organic fruit and veg Organic fruit and veg from Kent. Find them in the courtyard.
Wild Country Organics Veg, salad and herbs, all organic, and all grown on Adrian's farm near Cambridge.
---
DELI STALLS
Palace Culture Award winning vegan cheese made by Mirko.
Capo Caccia Sardinian deli from Antonio. He says "This weekend we've the organic smoked ricotta and goat blue cheese with the sweet salami and Sardinian cured ham to go with the crunchy guttiau and spreadable pecorino."
London Smoke & Cure Made just down the road in Streatham. Cheeses and charcuterie.
Pasta di Julia Pasta and pasta sauces made at Wild Country Organics farm
---
REFILLS/ECO
The Walkthrough Click here for Rebecca's Spring newsletter. Including updates on the merger with The Store Cupboard, and new opening hours, starting in May.
Food and cleaning eco refills and much more. On the food side Wholefood refills, by weight. Buy as much or as little as you need. Nuts, grains, seeds, pulses, dried druit, teas and superfoods, oils and much more. On the kitchen/bathroom side Refill washing and cleaning liquids, plus toilet paper, bamboo toothbrushes, soap and much more. Price and product list here.
---
DURING THE WEEK
Thursday mini market
9-1pm Hook & Son Raw or pasteurised milk, plus butter, cream, ghee, yoghurt, eggs and beef. All organic and pasture fed. Almost all from their own farm.
10-4:30pm The Store Cupboard (now part of The Walkthrough) Organic wholefoods, by weight. Buy as much or as little as you need. We sell pulses, grains, nuts, seeds, dried fruit, tea, spices, herbs, superfoods. Plus prepackaged flour, nut butters, tahini, coconut oil, maple syrup.
10-4:30pm The Walkthrough Eco household refills, locally hand made natural beauty products. Plus recycled paper, plastic free toilet paper, soap and much more. Price and product list here.
PLUS – Haynes Lane market and Alan's Antiques are also open from 11-5 Thursday, Friday and Saturday.
---
(now includes The Store Cupboard)
Wednesdays 11-6pm
Thursdays 10-4:30pm
Fridays 11-4:30pm
Saturdays 10-4pm
Sundays 11-4pm
On the food side Wholefood refills, by weight. Buy as much or as little as you need. Nuts, grains, seeds, pulses, dried druit, teas and superfoods, oils and much more.
On the kitchen/bathroom side Refill washing and cleaning liquids, plus toilet paper, bamboo toothbrushes, soap and much more. Price and product list here.
---
Ongoing takeaways/deliveries

Handmade wooden chopping boards – Russ Got Wood Our favourite tree surgeon Russ says "Buy my boards! Your mum told me she wants one." Prices range from £20 to £60. Or if you want something bespoke get in touch to see what he can do. You can call Russ on 07475454962 or contact him via his facebook page.
---

Upcycled kids clothes, masks & more – Y Kairos Snezana says "I'm offering free delivery to Crystal Palace customers. If you are ordering from my website www.ykairos.etsy.com, enter CPFM21 at the checkout for free delivery. Otherwise, you are welcome to order through my social media channels www.instagram.com/y_kairos, www.facebook.com/YKairosLondon by private message, or email [email protected] See you soon Snezana x
---

Cheese & charcuterie – Capo Caccia Antonio says "Cheese, cured meat, pasta, olive oil and more. Free delivery to Crystal Palace customers with the pick up option."
---

Smokery – London Smoke and Cure Ross says "Hi to all our lovely customers! We hope you're all staying healthy and happy. If you'd prefer a deliver, we are taking orders through our website, which is londonsmokeandcure.co.uk.
Additionally we offer a 5% discount code for all Crystal Palace Food Market customers. Just enter CPFOODMARKET at the checkout. Here you'll find our full range of bacon, hand-linked fresh sausage, cold smoked salmon and charcuterie. All made by hand locally by a small and passionate crew of guys and girls. Once you've placed an order you'll be able to either collect from the smokery in Streatham or from the Crystal Palace Market, or alternatively have it delivered by Chris on a Friday on our eco-cargo bike."
---

Natural wines – Wine Scouts Pedro is still delivering. Check out his website.
---

Vegan cheese – Palace Culture Mirko says "We are still offering free delivery around SE19 and 1 mile radius as well as trading at the market every Saturday. Check our website for details."
---

Preserves – Fruition Preserves "Local contactless home deliveries, free of charge, to the following postcodes:SE27, SE14, SE15, SE19, SE20, SE21, SE22, SE23, SE24, SW2, SW4, SW9, SW16. You are welcome to place orders, however small via email [email protected] or text 07989 975 633. Payments are taken in advance by card (via SumUp link) so that we can keep it all contactless. Check the website for all our products and our price list."
---

Free from cakes – Simply Tay Cakes (8 inch) for £15. No contact collection from SE19 2LE, or delivery available if you are isolating. VG = vegan, GF = gluten free (not suitable for coeliacs). To order text Tay to 07896126916 or via messenger.
Chocolate Guinness VG & Normal – Lemon VG & normal – Chocolate VG & normal
Vanilla Raspberry normal – Coffee walnut VG & Normal – Carrot HazlenutVG
Chocolate beetroot GF
---
Olives and olive oil
–
Olives and More
Choose your favorite olives, award-winning extra virgin olive oil, delicious almonds, chocolate with olive oil, or any other Spanish delicacy straight from
our website
and select pick-up option at check out.
Free delivery to our clients at Crystal Palace for orders over £15.
---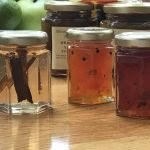 Preserves – Winsford House
Jane says "Happy to deliver for a minimum of £15. Check out my website
www.winsfordhouse.co.uk
for details of areas.
---
Meals & snacks

Curry – Lucknow 2 London Click here for order details.
Me Nan's Turnip Kebabs – Spiced patties made of turnips mashed with lentils. Silky smooth and stuffed with finely chopped onion, mint and green chili.
Lucknowi Hotpot – Succulent pieces of mutton slow cooked with onions, whole garam masala, garlic and ginger. Garnished with fresh green chilies and coriander.
Green Chicken – Succulent pieces of boneless chicken marinated in coriander, yoghurt and green chillies.
Cauliflower n Cheese– cauliflower cooked with Indian cheese – paneer in a thick tomato sauce made with onions and spices.(vegan option available)
Bad Mash & The Peas – Spicy mashed potato cooked with spring onions, tomato, mint, coriander accompanied by peas in spicy Indian gravy.
Vegetable Pilau – basmati rice cooked with seasonal vegetables.
---

Pakistani supper club and samosas – Simply Tay Watch out for her supper clubs. Details will be posted by Tay NC on our market facebook page. Or text her on 07896126916. In the mean time – Samosas £2 each freshly fried, or £1.50 frozen. Minimum order 12.
---

Jamaican food – Jerky Fridays Patsy says "At Jerky Fridays we will be doing our own deliveries from our set menu. All orders will need to be pre-booked by the Thursday lunchtime. I will send out the weekends menu on a Wednesday for a delivery on either the Friday or Saturday. Each week the menus will alter slightly. If you're interested let me know then I can add you to my mail out list. Delivery charges will apply."
---

Sausage rolls – Ricochez
Packs to cook at home. 20 plain for £20. 5 chilli & ginger or 5 leek and cheddar for £5. Call them on 07912 625 030 to order.
---

Ghanaian street food
–
Zongo
Helen says "Get in touch via
our website
for orders."
---
---
We are proud to be part of Crystal Palace Transition Town. Wondering who we are, what we do, or how you could get involved? Our blog section is a great place to start or this talk given by Joe Duggan, one of the co-chairs.
News From Crystal Palace – we love this local news page from our friend, journalist Jerry Green.
Follow us
Twitter @CPFoodMarket
Instagram @crystalpalacefoodmarket
Facebook CrystalPalaceFoodMarket