---
Saturday 22nd January
10am-3pm
We have two new stalls for you this week!

Gustosissima's

home made Italian meals vacuum packed to heat at home. Meat or vegan options, and they're all gluten free. Plus we have some local (ish) honey.

Backyard Apiary

are based 14 miles away in Swanley.
Our other guests this week are Return to Shashamane vegan lunch and

Y Kairos

upcycled clothes.
In other important news, Brockman's farm has been taken over by some of its former staff and is now called Peterson's Farm Produce, and is still organically farmed. Ask Debbie all about it on their rebranded stall, which you'll find in the courtyard. Brambletye are now at the Haynes Lane end, Capo Caccia will now be in the lower market.

---
LUNCH
Return to Shashamane Wholesome vegan food made by Emilia. All the usuals, plus mushroom stew.

Simply Tay Expanded Menu Hot Food: Vegan Samosas, Bombay Chana Chaat, Kati Roll Chicken, Shami Kebab & Vegan options. Served with salad and chutneys. Boxed : Vegan: Vegan Alu Palak, Chana, Kajjar Alu, Pallia Alu. Non-vegan: Lahori Chicken, Shahi Paneer. All with brown basmati pilau rice, Masoor dahl and cooked in coconut butter. (Low carb options etc available on request). Drinks: Vegan Mango Lassi, Vegan Iced Chai, Vegan Cardamon Chai.
Comfort & Joy Deli stall with pies, scotch eggs, sausage rolls, hot wraps and a varied selection of interesting salads. Also find a range of meals to heat at home.
---
VISITORS
NEW STALL Gustosissma Home cooked Italian meals, vacuum packed to heat up at home. Meat, vegetarian and vegan, all gluten free.
NEW STALL Backyard Apiary Honey from Swanley, Kent. That's about 14 miles away, so it's local ish!
Y Kairos Upcycled clothes for adults and children.
---
WINE
The Wine Scout BACK IN FEBRUARY Naturally produced wines from around the world, sourced by Pedro.
---
CAKES, PASTRIES, BREAD
Brett & Bailey They're back! Joe says "We're finally back in our sweet spot this weekend! Come and join us for pistachio cheesecake, brand new mint choc chip gateau with a ripple of homemade blackcurrant jam, lemon curd cake, orange and poppy seed frangipane, rhubarb crumble cake, the return of Rhubarbra Streisand, and – cream buns ahoy – our first semlor of the year.
We'll also have our classic pecan-studded brownies, loads of cardamom knots and sticky buns, lemon and rosemary drizzle, double carrot cake, chocolate Guinness, rhubarb crumble cake, raspberry bakewells, triple chocolate cookies, and lashings of our Great Taste Award-winning marmalade, packed with organic Seville oranges and fresh off the hob this week.
Need a whole cake next weekend?
Order online by Tuesday night
and we'll have it freshly-baked and ready to collect at Saturday's market. We also now sell
gift cards
redeemable both online and at the stall. See you soon – we've missed you!"
Bread Bread Sourdough, rye, foccacia, olive sticks, croissants & other pastries, cinnamon buns, cake and more.
---
PRODUCE
Hook and Son Raw or pasteurised dairy; milk, plus butter, cream, ghee, yoghurt, eggs and beef. All organic and pasture fed. Almost all from their own farm.
Holly Farm butcher Find farmer and butcher Andy with a stall full of meat.
Veaseys fishmonger "Nicks been out on the boat this week getting some fresh sea air. We went a few miles off the coast of Eastbourne for a clear and cold days fishing. We caught some bass, dogfish, whiting, brill, turbot and a few extra bits!"
---
FRUIT & VEG
Brambletye fruit, veg & eggs Biodynamic veg, mushrooms, apples, the best apple juice, ferments, eggs, and more. All grown themselves on their farm in Forest Row.
Peterson's organic fruit and veg Organic fruit and veg from Kent. Find them in the courtyard.
Wild Country Organics Veg, salad and herbs, all organic, and all grown on Adrian's farm near Cambridge.
---
DELI STALLS
Capo Caccia Sardinian deli from Antonio. Find him in the lower market in his new pitch. Antonio says, "This week the smoked salami is back with the fennel and red wine ones
the organic aged pecorino and the 24 months Granglona are part of the team as well with the black caciotta piccante and Blue goat."
Palace Culture Award winning vegan cheese made by Mirko the magician.
London Smoke & Cure Ross says "Hello everyone, we hope you've been well. Now here's a thing and you'd feta brie-lieve it! It's #NationalCheeseLoversDay. Hurrah! As far as grate holidays go, this is as goudas it gets. So don't be blue – in queso emergencies, just say cheese (Excuse the puns, we're not very mature)
Ha ha, that was funny. Also coming up in the week is the bard Rabbie Burns night and so in celebration we've brought in some cracking Scottish cheeses including Lanark Blue – Scotlands Answer to a roquefort, strong and full of flavour. And talking of blue, we've got a little offer on the last of our Burts Blue stock – grab it whilst you can.
We'll have good stocks of all of our own award-winning produce, including some cracking chroizo which make for such an easy way to pep up a winter stew.
And we'll have a new face with u this weekend. Sam joins us from the Earl Court market cheese and deli stall and we're already excited about the energy he's going to bring to our little pitch on Haynes Lane. Give him your best cheesy grin on his first day! See you down there x"
---
REFILLS/ECO
The Walkthrough Food and cleaning eco refills and much more. On the food side Wholefood refills, by weight. Buy as much or as little as you need. Nuts, grains, seeds, pulses, dried druit, teas and superfoods, oils and much more. On the kitchen/bathroom side Refill washing and cleaning liquids, plus toilet paper, bamboo toothbrushes, soap and much more. Price and product list here.
---
DURING THE WEEK
Thursday mini market
9-1pm Hook & Son Raw or pasteurised milk, plus butter, cream, ghee, yoghurt, eggs and beef. All organic and pasture fed. Almost all from their own farm.
10-4:30pm The Store Cupboard (now part of The Walkthrough) Organic wholefoods, by weight. Buy as much or as little as you need. We sell pulses, grains, nuts, seeds, dried fruit, tea, spices, herbs, superfoods. Plus prepackaged flour, nut butters, tahini, coconut oil, maple syrup. Price and product list here.
10-4:30pm The Walkthrough Eco household refills, locally hand made natural beauty products. Plus recycled paper, plastic free toilet paper, soap and much more. Price and product list here.
PLUS – Haynes Lane market and Alan's Antiques are also open from 11-5 Thursday, Friday and Saturday.
---
(now includes The Store Cupboard)
Wednesdays 11-6pm
Thursdays 10-4:30pm
Fridays 11-4:30pm
Saturdays 10-4pm
Sundays 11-4pm
On the food side Wholefood refills, by weight. Buy as much or as little as you need. Nuts, grains, seeds, pulses, dried druit, teas and superfoods, oils and much more.
On the kitchen/bathroom side Refill washing and cleaning liquids, plus toilet paper, bamboo toothbrushes, soap and much more. Price and product list here.
---
Ongoing takeaways/deliveries

Handmade wooden chopping boards – Russ Got Wood Our favourite tree surgeon Russ says "Buy my boards! Your mum told me she wants one." Prices range from £20 to £60. Or if you want something bespoke get in touch to see what he can do. You can call Russ on 07475454962 or contact him via his facebook page.
---

Upcycled kids clothes, masks & more – Y Kairos Snezana says "I'm offering free delivery to Crystal Palace customers. If you are ordering from my website www.ykairos.etsy.com, enter CPFM21 at the checkout for free delivery. Otherwise, you are welcome to order through my social media channels www.instagram.com/y_kairos, www.facebook.com/YKairosLondon by private message, or email [email protected] See you soon Snezana x
---

Cheese & charcuterie – Capo Caccia Antonio says "Cheese, cured meat, pasta, olive oil and more. Free delivery to Crystal Palace customers with the pick up option."
---

Smokery – London Smoke and Cure Ross says "Hi to all our lovely customers! We hope you're all staying healthy and happy. If you'd prefer a deliver, we are taking orders through our website, which is londonsmokeandcure.co.uk.
Additionally we offer a 5% discount code for all Crystal Palace Food Market customers. Just enter CPFOODMARKET at the checkout. Here you'll find our full range of bacon, hand-linked fresh sausage, cold smoked salmon and charcuterie. All made by hand locally by a small and passionate crew of guys and girls. Once you've placed an order you'll be able to either collect from the smokery in Streatham or from the Crystal Palace Market, or alternatively have it delivered by Chris on a Friday on our eco-cargo bike."
---

Natural wines – Wine Scouts Pedro is still delivering. Check out his website.
---

Vegan cheese – Palace Culture Mirko says "We are still offering free delivery around SE19 and 1 mile radius as well as trading at the market every Saturday. Check our website for details."
---

Preserves – Fruition Preserves "Local contactless home deliveries, free of charge, to the following postcodes:SE27, SE14, SE15, SE19, SE20, SE21, SE22, SE23, SE24, SW2, SW4, SW9, SW16. You are welcome to place orders, however small via email [email protected] or text 07989 975 633. Payments are taken in advance by card (via SumUp link) so that we can keep it all contactless. Check the website for all our products and our price list."
---

Free from cakes – Simply Tay Cakes (8 inch) for £15. No contact collection from SE19 2LE, or delivery available if you are isolating. VG = vegan, GF = gluten free (not suitable for coeliacs). To order text Tay to 07896126916 or via messenger.
Chocolate Guinness VG & Normal – Lemon VG & normal – Chocolate VG & normal
Vanilla Raspberry normal – Coffee walnut VG & Normal – Carrot HazlenutVG
Chocolate beetroot GF
---

Olives and olive oil – Olives and More Mar says "Hi to everyone and hope you are all staying safe. Just a quick note from me. Whilst the lockdown situation continues and until further notice, we would like to help our great and loyal customers from Crystal Palace Food market by arranging free delivery (spending a minimum of £15) to the following postcode areas: SE19, SE20, SE25, SE26 and SE27. We'll arrange deliveries on Monday and Thursday each week. You can check our offers for olives and extra virgin olive oil at http://mardeolivos.co.uk/shoponline. If you have any questions/queries I can be contacted at 07803 299249, [email protected]uk or any of my social media channels. Stay safe and keep well!"
---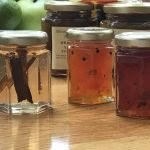 Preserves – Winsford House
Jane says "Happy to deliver for a minimum of £15. Check out my website
www.winsfordhouse.co.uk
for details of areas.
---
Meals & snacks

Curry – Lucknow 2 London Click here for order details.
Me Nan's Turnip Kebabs – Spiced patties made of turnips mashed with lentils. Silky smooth and stuffed with finely chopped onion, mint and green chili.
Lucknowi Hotpot – Succulent pieces of mutton slow cooked with onions, whole garam masala, garlic and ginger. Garnished with fresh green chilies and coriander.
Green Chicken – Succulent pieces of boneless chicken marinated in coriander, yoghurt and green chillies.
Cauliflower n Cheese– cauliflower cooked with Indian cheese – paneer in a thick tomato sauce made with onions and spices.(vegan option available)
Bad Mash & The Peas – Spicy mashed potato cooked with spring onions, tomato, mint, coriander accompanied by peas in spicy Indian gravy.
Vegetable Pilau – basmati rice cooked with seasonal vegetables.
---

Pakistani supper club and samosas – Simply Tay Watch out for her supper clubs. Details will be posted by Tay NC on our market facebook page. Or text her on 07896126916. In the mean time – Samosas £2 each freshly fried, or £1.50 frozen. Minimum order 12.
---

Jamaican food – Jerky Fridays Patsy says "At Jerky Fridays we will be doing our own deliveries from our set menu. All orders will need to be pre-booked by the Thursday lunchtime. I will send out the weekends menu on a Wednesday for a delivery on either the Friday or Saturday. Each week the menus will alter slightly. If you're interested let me know then I can add you to my mail out list. Delivery charges will apply."
---

Sausage rolls – Ricochez
Packs to cook at home. 20 plain for £20. 5 chilli & ginger or 5 leek and cheddar for £5. Call them on 07912 625 030 to order.
---

Ghanaian street food
–
Zongo
Helen says "Get in touch via
our website
for orders."
---
---
We are proud to be part of Crystal Palace Transition Town. Wondering who we are, what we do, or how you could get involved? Our blog section is a great place to start or this talk given by Joe Duggan, one of the co-chairs.
News From Crystal Palace – we love this local news page from our friend, journalist Jerry Green.
Follow us
Twitter @CPFoodMarket
Instagram @crystalpalacefoodmarket
Facebook CrystalPalaceFoodMarket